Matilda Strand
DECCAN DEVELOPMENT SOCIETY
En introduktion till Svalornas
praktikantprogram - i tre steg

---
Hej!

Jag heter Matilda och har tillsammans med Cecilia, Natalie och Matilda Evensen praktiserat hos Svalornas partnerorganisation Deccan Development Society (DDS) under hösten 2019 och våren 2020. Under min tid hos DDS har jag fått göra och se en mängd olika saker vilket både fördjupat mitt intresse och kunskaper om Svalornas fokusområden samt Indien som land.

Jag och mina svenska medarbetare har bland annat fått åka på mängder av fältbesök, göra intervjuer, skriva artiklar, fotografera och lägga upp instagram och blogginlägg. Under DDS årliga Biodiversitetsfestival fick dem detta året besök av tre olika organisationer från Mali och Senegal. Under det 2 veckor långa besöket så fick jag vara deras tolk då besökarna i stort sett bara pratade franska. Eftersom jag pratar både franska och engelska flytande så passade det bra. Då jag varit i Senegal två gånger tidigare så var det så lärorikt och intressant för mig att få upptäcka Indien från ett västafrikanskt perspektiv och vise versa. Min tid i Indien värderar jag högt och det är med ett stort leende på läpparna som jag tänker tillbaka på mina dagar i Pastapur (DDS huvudsäte).

Som del av praktikens efterarbete har jag producerat flertalet broschyrer. Två av dem kan ni hitta här på vår hemsida. För att kunna göra dessa brochyrer har jag fått lära mig programmet Adobe CC- InDesign, vilket har varit jättekul och lärorikt.

Jag hoppas mitt arbete kan inspirera dig till att lära dig mer om Indien och Bangladesh eller till och med söka till praktikprogrammet själv.

Mvh
Matilda



DDS-praktikanter tillsammans med Narsamma och --- från DDS. Från vänster: Matilda Strand, Natalie Bodin, ---, Narsamma, Matilda Evensen och Cecilia Östman.
---
1. International Knowledge-Exchange Between NGO:s
What do four NGO's from two different continents working on agricultural development have in common? Apparently a great deal. They are all assisting women farmers to seize their seed and land rights, ensure their food sovereignty, and maintain the biodiversity on their fields.
In January 2020, women farmers and directors from the West African organizations; Baranjneni from Senegal, COFERSA (Federation of Rural Women for Food Sovereignty) and BEDE (Biodiversity Exchange and Dissemination of Experiences) from Mali came for a two week long official visit to Deccan Development Society (DDS) in Pastapur, India. During the stay, the organizations exchanged knowledge on millet farming, farmers' rights, food sovereignty, and biodiversity. The activities included visits to millet intercropping-fields, villages, seed banks, DDS radio station, product store, community production and processing centers, and medicine women. Together, the West African delegation and the Sangham women from DDS participated in seed exchanges, the making of a documentary movie, workshops on millet recipes and seed conservation techniques, in addition to DDS annual biodiversity festival.
On the millet-field in the making of the documentary movie.
Despite their different contexts, the organizations encounter many similar problems. First of all, the market of commercial company seeds is expanding which threatens the survival of traditional seeds. This is causing great concern as traditional seeds holds great biodiversity, are more resistant to climate change and are naturally adapted to their local environment. If small-farmers would start using commercial seeds in their cultivations, it would lead to decreasing seed-diversity and ultimately weaken farmers' power over their own agriculture and livelihood. Secondly, Indian and West African consumers tend to purchase white rice which demands large quantities of water and is scarcer in nutrition in comparison to the nutrition-dense millet-varieties. The millets reputation of being a "poor man´s crop" in addition to the easily cooked white rice are just two of the reasons to this trend. Thirdly, agricultural development organizations are finding it increasingly difficult to recruit due to the younger generation's falling interest for the agricultural sector.
During a conversation with Alimata Traoré, director of COFERSA in Mali, she vocalized her concerns:
"Our organizations have a serious challenge when it comes to capturing the interest of the younger generations. (…) What COFERSA do to combat this is to group together young people from various backgrounds to discuss their solutions for the future. This is our way of creating awareness. We hope they will appreciate our work and continue what we have started".
Alimata Traoré from COFERSA, Mali in a discussion with the DDS Sangham women farmers in a village close to Pastapur.
The participants from the organizations agreed that exchanging knowledge on their common challenges was encouraging, inspiring and enlighetning as it helps them to visualize potential solutions for the future.
Francisca Diouf, coordinator of Baranjneni in Senegal said that:
"This visit has given me perspective to see the future of tomorrow. Seeds are the future for humankind. Without seeds we cannot live. The knowledge I bring back home will inspire and encourage the women farmers I work with".
Francisca Diouf from Senegal is visiting Chandramas village.

When reflecting upon the future, Anne Beson Déna, coordinator for BEDE in Mali, said that:
"Through this visit, we have been able to share and exchange our knowledge and expertise. Together, we can evolve and develop even further than on our own. This visit will help us a great deal to evolve on a number of areas. Despite that our journey in comparison to that of DDS is different, there are many similarities. When we are back in Mali, we will spread the knowledge we have gained here to our member communities. This visit will also help the development of our organizations' continued partnership. Our idea of this partnership is to have a place for continued exchange of expertise and seeds".
Alimata Traoré, added that:
"Another important focus for the future is, how we can increase the valorization of farmers knowledge and practices. We want to cooperate with DDS to create a common initiative on the protection and development of farmer's knowledge. This would assist both of our countries in maintaining biodiversity in the future (…) I hope that we together can find sustainable solutions to this problem".
To conclude, the establishment and perseverance of international NGO partnerships are important both for the organizations own motivation, development, solutions for present and future challenges, but also to evolve even further than would have been possible on their own. Collective action is important for a successful agricultural development.
---
2. Broschyr om praktikantprogrammet


Nedan kan du få en genomgång av vilka Svalorna Indien Bangladesh är och vad en får ta del av som praktikant i deras utlandspraktikantprogram. Klicka dig vidare i bildspelet för att börja din introduktion.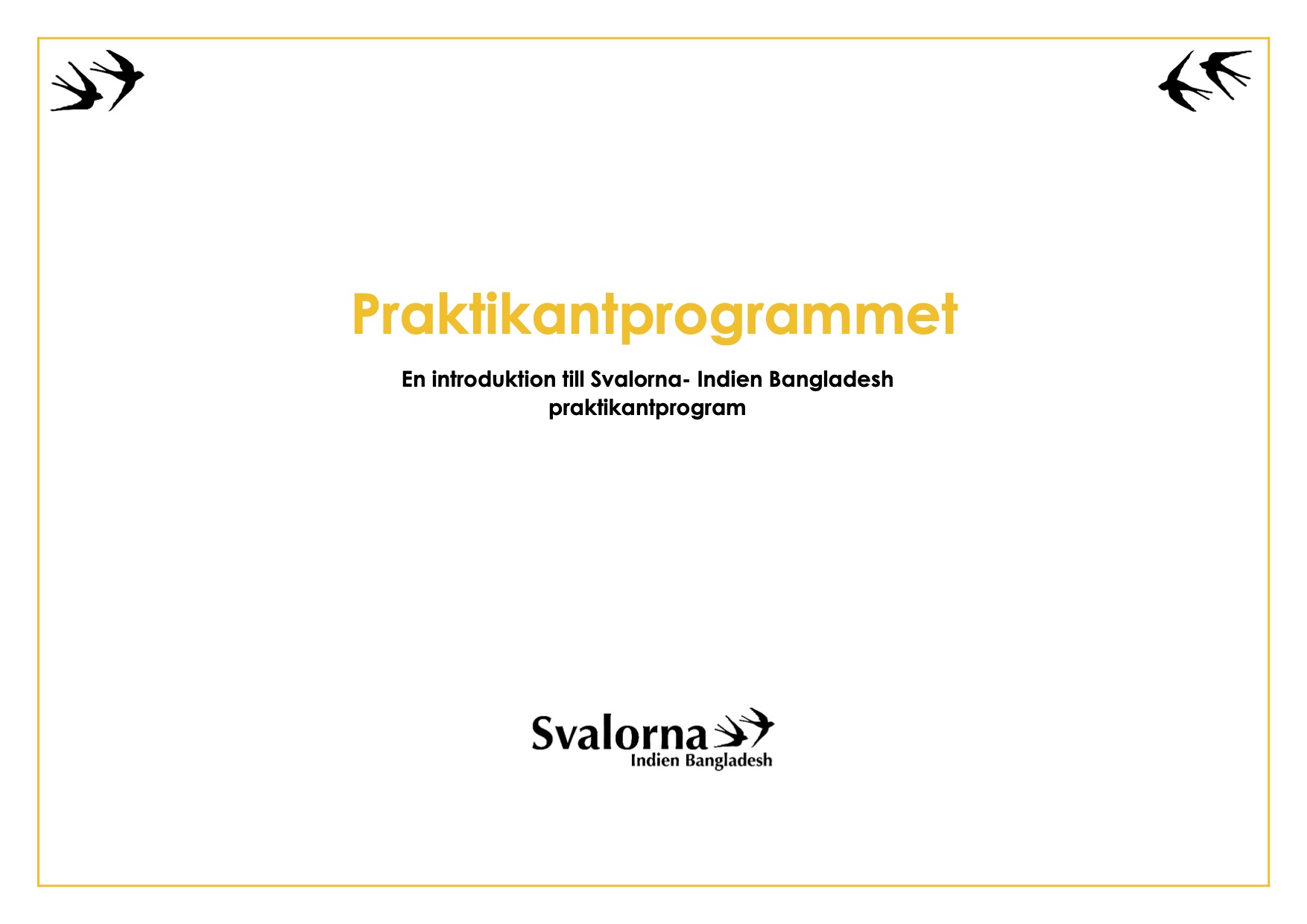 ---
3. Local Food Label - A Platform for Communiation and Engagement in Civil Society
Maintaining good relations in a community, creating financial stability and enhancing livelihood standards are three important factors for a sustainable development. SABALA is a grassroot and community-based NGO who have realized these factors through the promotion of locally produced food products. How have women farmer's livelihoods been improved? What are the remaining challenges and future objectives? Find the answers as you read a long.

In 2016, SABALA registered the food label Arogya Millets FPO, which since then has been used by women farmer members to sell their produce. The labels products, varies according to the seasons, and the most common ones include oil seeds, millets, vegetables, pulses, and groundnuts. Prior to Arogya Millets FPO, the women farmers predominantly engaged in farm cultivation for household consumption purposes and not for market sales. As this has changed, the women farmers now produce larger quantities of higher quality which they sell to their surounding community as well as urban consumers.

By using the market and customers demand to their advantage, SABALA's women farmer members have created an outlet for their produce rendering in a continous income. However, a perhaps unexpected result from this are the social community ties which the Arogya- label have facilitated. Social relations both within and external to the villages have been improved. Within SABALA's member villages, farmers come together to discuss the selection of seeds and to make plans for the coming season. By cultivating produce for Arogya Millets FPO, this creates solidarity and facilitates cooperation among the member-farmers. Exterior to the villages, marketing of Arogya Millets FPO also creates valuable social ties as farmers often times meet and interact with the consumers.

K. Saraswati, who is the secretary of SABALA and CEO of Arogya Millets FPO says that:

"Our motto is 'from producers to consumers'. This is something that we encourage a lot". SABALA organize markets with millet stalls, where consumers can ask questions to the farmers. This creates direct contact between them

Furthermore, staff and members of SABALA and 'Arogya Millets FPO' highlight that costumers demand for millets is increasing. M. Ramulamma, the director of Arogya Millets FPO says that:

"Previously, the farmers had to explain to consumers why millets was good to consume, how millet processing worked, and why the prices were set accordingly. But now, consumers know all of this. They know why they want to buy millets, and why it is good for them. Today, the awareness among consumers is very good".


Despite this positive development, many challenges remain. Firstly, the shorter and unpredictable monsun-season is making it difficult for the agricultural planning. Secondly, as ressources are lacking, there are too few facilities for grainstorage, millet processing machines and staff salaries. Thirdly, there is a need for better packaging of millet products and improved post-harvest technologies. Filling these lacking ressources is vital as this could improve the product quality, increase product value and make the work easier on the farmers.
Turning to future objectives, SABALA work continously with government lobbying to establish programmes and policies working in favour of developing the millet value chain. This include getting governmental assistance for farming millets as well as including millets as a given part of school lunches. Similar initiatives and projects to that of SABALA is important for a broad-based sustainable development as it has the potential to facilitate communication and engagement in civil society.
K. Saraswati and M. Ramulamma